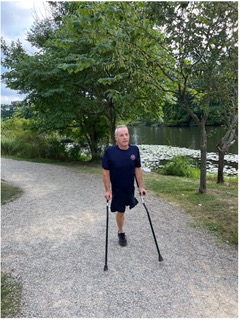 Kirk Gibson Foundation for Parkinson's Managing Director and Board Member Steve Annear is currently training for his first marathon to raise awareness and funds for the Foundation. Steve's goal is to raise $100,000.00 at the Detroit Free Press Marathon on Sunday, October 16th. All funds raised will be used to support activity-based programs to improve the quality of life for those living with Parkinson's Disease and their families. You can support Steve's marathon fundraising efforts here
Steve joined the Board of the Kirk Gibson Foundation for Parkinson's in January of 2022 after befriending Gibby at a local golf course a couple of years back. Steve generously offered his time and skills to help the Foundation grow.
Steve was born and raised in the Australian outback and had his leg amputated at the age of 11. After overcoming several obstacles related to his condition, Steve represented Australia as a coxswain for three years. Professionally, Steve has been the CEO of several different businesses including a software startup, 2 large steel companies and a technology development company. He, his wife and 3 children relocated to the United States in 2014, with his children attending high school and college in Michigan.
In addition to training for the marathon, in his free time Steve enjoys his family, friends, golfing, and hiking.
In discussing his marathon efforts, Steve says "I have been privileged to join the team at the Foundation to help drive Kirk's vision to provide hope, help and inspiration to those with Parkinson's Disease. To this end along with Team 23, I aim to raise $100,000 by completing the marathon, no matter how long it takes me!"
Foundation COO Michelle Newman says "It has been such a great experience having Steve join the Board and working with him this year. His kindness and compassion towards the Parkinson's Community truly embody our commitment to collaboration, cooperation and teamwork. I have no doubt his first marathon will be a success!"